Spotify just took a new playlist-related feature out of beta — and while doing so, revealed a few numbers attesting to the might of the playlists themselves. In June, the music-streaming service started allowing artists and labels to submit unreleased music directly to its editorial team for playlist consideration. On Wednesday, announcing that the playlist submission feature has been finalized, Spotify said that more than 67,000 artists and labels have submitted music through the tool and more than 10,000 artists have been added to Spotify editorial playlists for the first time.
Such artists include Gustavo Bertoni, whose song "Be Here Now" shot from 7,000 monthly streams to 617,000 after it was slotted into two popular Spotify playlists, Acoustic Morning and Fresh Folk. British rock band Yonaka similarly went from 82,000 to 290,000 after being added to New Music Friday. Spotify's announcement also quoted Belgian rapper Bryan Mg, who said he received concert booking requests, radio station invitations and a trove of new social media followers in the weeks after landing on the La Vida Loca playlist.
"I found out I was on the playlist and the streams started jumping. It was an insane, immediate reaction," Jayden Bartels, a 13-year-old pop newcomer whose song "Can't Help Me Now" tripled to 72,000 streams a month after it was added to New Music Friday, tells Rolling Stone. "I was not expecting those streaming numbers."
Bartels says the playlist placement has changed the way she'll think about her distribution strategy going forward. "It hasn't changed how I'm making my songs or putting out music, but I have a new goal of always getting on these playlists and submitting my songs, because I realized how much exposure can be gained," she says.
Musicians submit songs directly through the Spotify for Artists platform, which allows one unreleased song to be considered at a time for placement on one of Spotify's official playlists (which can be distinguished from non-Spotify playlists by the company's small green logo in the image corner). Spotify's FAQ notes that "submitting a song doesn't guarantee a place on an editorial playlist, but does give it the best chance," and also that "it's not possible to pay to increase your chances, nor can any external parties influence our editors."
It's a PR win-win: Artists get to put their music up for career-changing exposure and Spotify gets to counter any claims that its playlists might be too biased in favor of industry relationships. But the power of the service's playlists — one that's sure to grow now that Spotify is encouraging more artists to use the official submission feature — is also yet another threat to the traditional regime of distribution and promotion in the music business. Record stores used to look to record labels for posters and other promotional materials to highlight favored music; now, labels also look to the digital record store.
Extra Tip: How to Download Spotify Playlist to MP3
Though Spotify provides us with all kinds of good features, it may fail us in some ways. As we all know, Spotify, like any other music streaming services, adopts DRM to restrict us to listen to Spotify songs with Spotify app and deny us downloading songs from Spotify as MP3 files. No worry though, here we meet NoteBurner Spotify Music Converter.
It is a top-rated Spotify playlist downloading and converting tool, delicated to helping Spotify users download and convert any Spotify track, album, artist and playlist from DRM-ed Ogg to other widely-used formats, including MP3, AAC, WAV, and FLAC . With an advanced DRM decrypting technique that differs from traditional recording, it can keep the original audio quality and ID tags of the music in output files. In this case, you can easily download and convert all your playlists from Spotify to MP3 format with ease.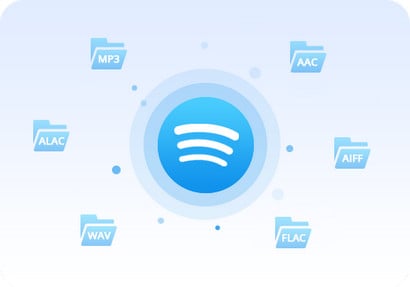 Remove DRM protection from Spotify music.
Convert Spotify music to plain MP3, AAC, WAV, FLAC.
Record songs at 5X speed with 100% lossless quality kept.
Keep ID3 tags after conversion.
Burn Spotify music to CD easily.
Support the Windows 10 Store version of Spotify.